House of Gin - your Gin Bar in Berlin
STAY GOLD! For us, means staying true to yourself and trying out new things, being willing to experiment and being open to new experiences. We take you on a journey through time and the world with our interpretations of old and new gin cocktails. Sometimes experimental, sometimes classic to playful.
150 different gins, some from limited bottlings, are waiting to be discovered by you!
Daily as of 6 pm
More impressions on Instagram » & Facebook »
Wednesday- Sunday at beef 45 restaurant
House of Gin meets beef 45
Discover the potential of the combination of kitchen and bar - as the interaction of dishes from the restaurant beef 45 and cocktails from the House of Gin creates completely new worlds of taste. The heads behind the stove and the counter have concocted a very special "bar-food pairing" just for you.
We serve perfectly coordinated cocktails to go with our special, high-quality cuts of meat: the best of the beef 45 & House of Gin »!
Amuse Bouche
"CBD 75"
Canaïma Gin CBD infused, Champagne, Lime, Sugar, CBD Oil
***
Dry aged beef fillet tartare
Mushrooms, feta cheese, onion, anchovies
Three Seasons
Boar Gin, Yuzu, Lime, Fog
***
parsley
Tomato, port wine, osso buco
The Fortune
The Fortune Gin, Black Olive, Rosemary, Bubbles
***
Veal liver "Berlin style" and veal cheeks
apple, onion, potato
999 stories
Humboldt Gin, Antica Formula, Maraschino, Bitters, Vanilla, Applewood Smoke
***
yogurt
Granny Smith, Basil
Melon & Mint
Bombay Sapphire Premiere Cru, Watermelon, Mint, Almond, Lime, Cucumber
€ 79 menu without gin accompaniment
€ 119 menu with gin accompaniment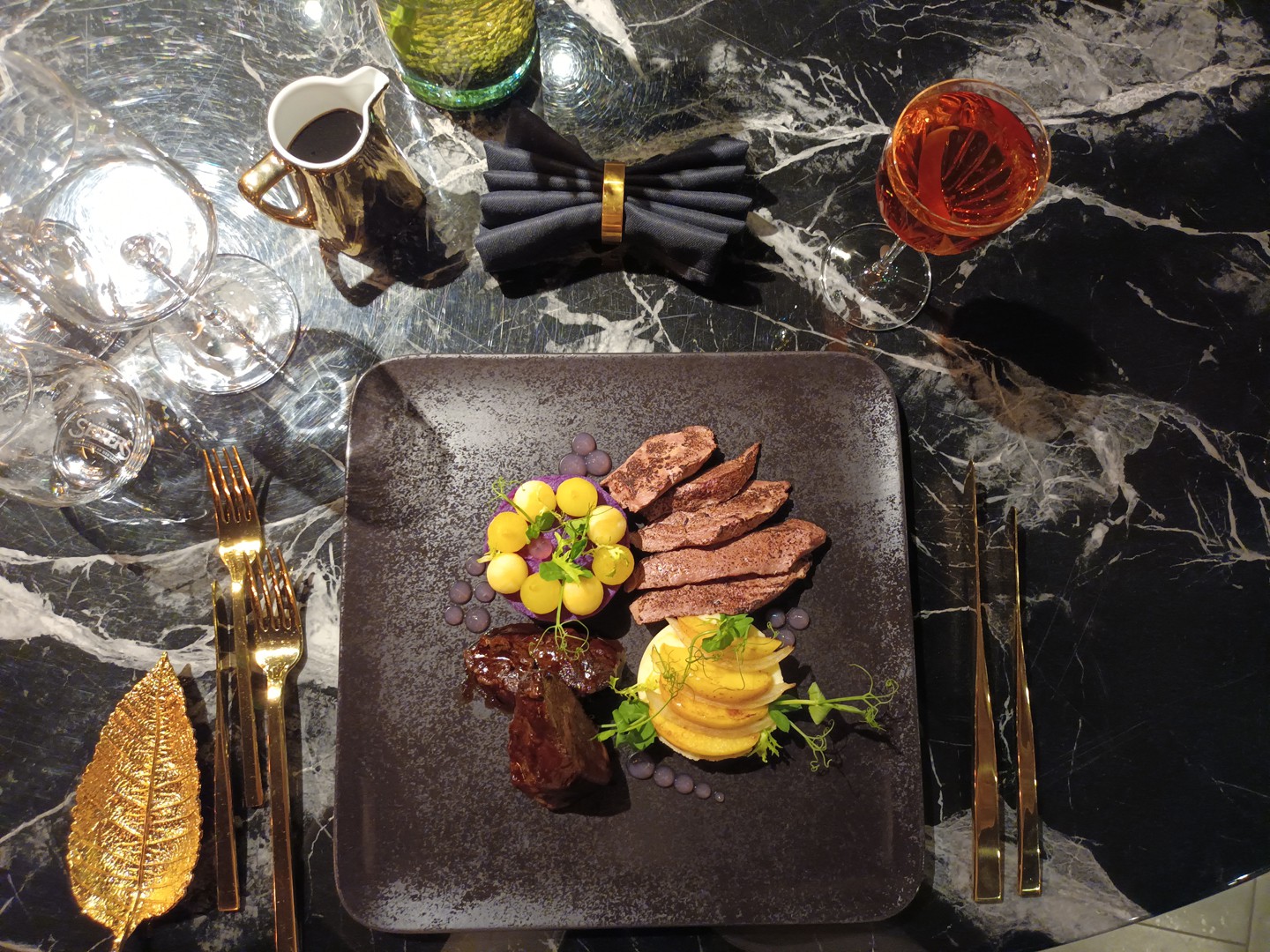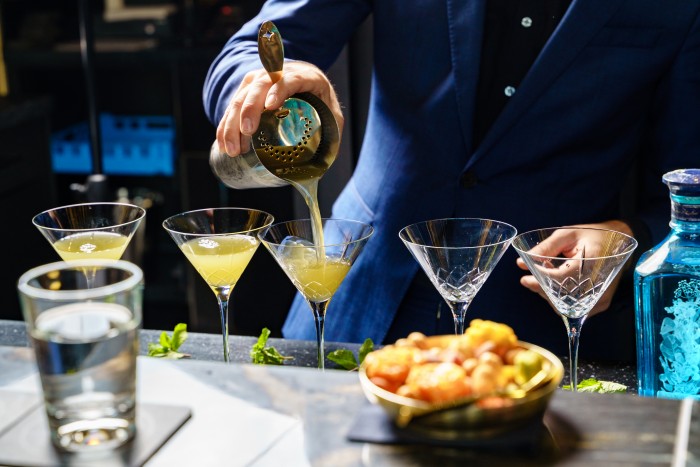 Gin Tasting
@ House of Gin
Both passionate connoisseurs with a desire for innovations and curious beginners can go on a discovery tour and even experience a personal gin trip around the world with one of the gin tasting menus. Because not all gins are the same!
Bar manager Frank Klevenow and his team explain everything about the history, place of origin, manufacturer, production and the individual character of the aromatic drop, while you indulge in the different flavors and delights of the juniper drink.
Time?
About 1½ to 2 hours. Other times can be agreed individually for group bookings.
Interesting for?
From gin tasting for beginners to gin & tonic tasting for groups of up to 25 people, there is something for every taste and level of knowledge. More information here.

Costs?
1) Basic – € 50 per person
2) Advanced – € 55 per person
3) Expert – € 60 per person
Booking?
We are happy to accept bookings Monday to Friday from 9 a.m. to 4 p.m. by phone on 030 2502-1080, by email to houseofgin@palace.de.