Dear friends of Hotel Palace Berlin,
We would like to ask you to inform yourself about the current legal provisions before you arrive. You can find detailed information here: https://www.berlin.de/corona/en/measures/directive/.

Welcome to Berlin! With us you can expect a friendly atmosphere and a warm welcome. We are very happy to take care of your well-being and to do what is important to us: to be your passionate host.
Warm service, city adventure, enjoyment, time for yourself and for the family - that means a break with us at the Hotel Palace Berlin. Making your stay as pleasant as possible is the most important thing for us! We thank you for remaining loyal to us over the past few months and look forward to seeing you again soon. Maybe a little different than usual, but no less warm!
You can reach our reservation at 030 2502 1190.
In 2021 we were published in "The 101 Best Hotels in Germany" & 2022 in the "Falstaff Hotel Guide 2022"!
Please understand that our employees are strictly instructed to adhere to the legal requirements for the benefit of guests and employees. It can therefore happen that some offers and services are only available to a limited extent or not at all.
Hygiene concept in the Hotel Palace Berlin
The health of our guests and employees is very important to us. In order to make it easier for you to choose your hotel in the heart of Berlin, we would like to introduce you to our increased hygiene and cleaning measures with this hygiene concept.
The highest hygiene standards apply in our hotel. This includes, for example, the provision of hand disinfectants and regular hygiene training for our employees.
We inform ourselves on a daily basis about updated information and recommendations for action from the Robert Koch Institute (RKI), the Federal Institute for Risk Assessment (BfR), the Federal Center for Health Education (BZgA) and the Federal Institute for Occupational Safety and Health (BauA).
You can be sure that compliance with personal and hand hygiene has top priority at the Hotel Palace Berlin.
Wearing a medical mask is strongly desired in all public areas.
Measures and hygiene regulations for our employees
Together with our company doctor, we have developed a consistent, clear and safe hygiene concept for all of our employees, regardless of whether they are in direct or indirect contact with you, our guests. Our Quality & Training Manager trained all employees and increased their awareness and concentration on the seamless compliance with our regulations and practical measures.
We have decided to maintain our internal protection concept for the time being, despite the omission of the Hygiene Protection Ordinance.
All employees have committed themselves to the following guidelines:
All employees are tested before starting work
Everyone is responsible for applying the legal requirements for wearing masks and maintaining minimum clearances in public transport when there is no other way to get to work.
All employees take good care of their health and report symptoms promptly. Work is only started when the doctor classifies the condition as harmless. When in doubt, employees are instructed to stay at home. The personnel office is in close contact with the employees.
We provide masks for all employees. These are changed regularly - depending on the activity - and frequently. We continue to adhere to the mask requirement for our employees and evaluate a relaxation on a regular basis, because we take the care of our employees very seriously as an employer.
Dispensers with disinfectants are installed in all areas. Frequent use is mandatory. Hands must be washed regularly with soap and according to instructions.
Signs and notices remind of compliance with the minimum clearances in the "back-of-house" areas.
Meetings are only held at the prescribed minimum distance
Offices with more than one person have plexiglass partitions.
Together with the company doctor and the employers' liability insurance association, we have developed and trained action plans with rules and procedures for possible infection scenarios. Every employee is informed.
Through our in-house digital extranet, we communicate regularly about new features, updates and remind employees of existing regulations.
All workplaces, i.e. surfaces such as floors, desks, tools and writing implements, are permanently disinfected.
Employee areas such as changing rooms and lockers, hallways and sanitary rooms are disinfected several times a day by our trained cleaning team, the same applies to door handles and banisters.
We have drawn up the prescribed risk assessments for all workplaces and regularly check that they are correct.
All prescribed minimum distances are observed.
The hotel employees work together in clearly defined teams in order to be able to reconstruct possible chains of infection.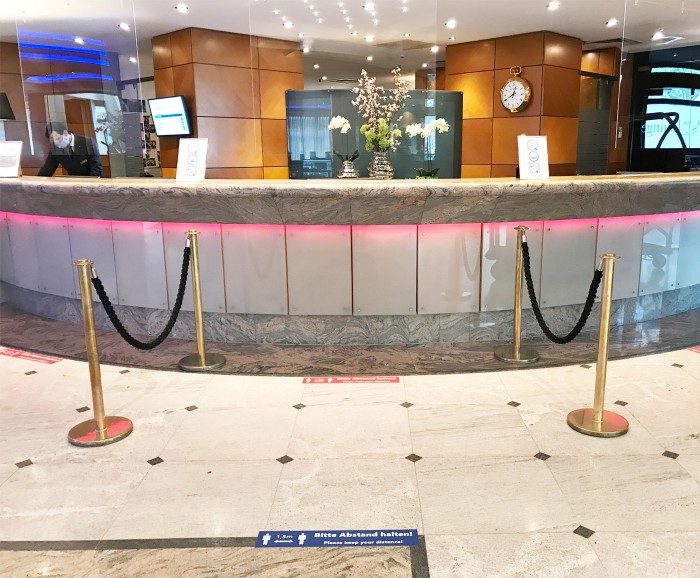 Check-in & Check-out
Our reception staff will be happy to inform you about the measures and precautions taken.

In order to be able to offer you an easy, hygienic and safe check-in and check-out procedure, some additional precautions have been taken, such as plexiglass partitions, UV boxes for disinfecting room cards and pens, guidance systems and contactless payment options are being expanded.

Hand sanitizer racks are available in public areas and are strictly controlled.

If processes require a contact, minimum distances must be observed.
Wearing a medical mask is still strongly desiredin all public areas.
Guest Rooms
For a safe yet pleasant stay.
All towels and bed linen are washed at 90 degrees and thus thermally disinfected.
Bathroom amenities that are made available to our guests are thoroughly disinfected beforehand and completely replaced after each departure.
After cleaning, our rooms are thoroughly ventilated.
Our housekeeping staff works with masks. Hands are washed thoroughly after every room cleaning.
Conferences, Restaurants & Bars
Wearing a medical mask is still strongly desired in all public areas.
The service staff always wear a face mask and wash / disinfect their hands thoroughly after each contact with guests.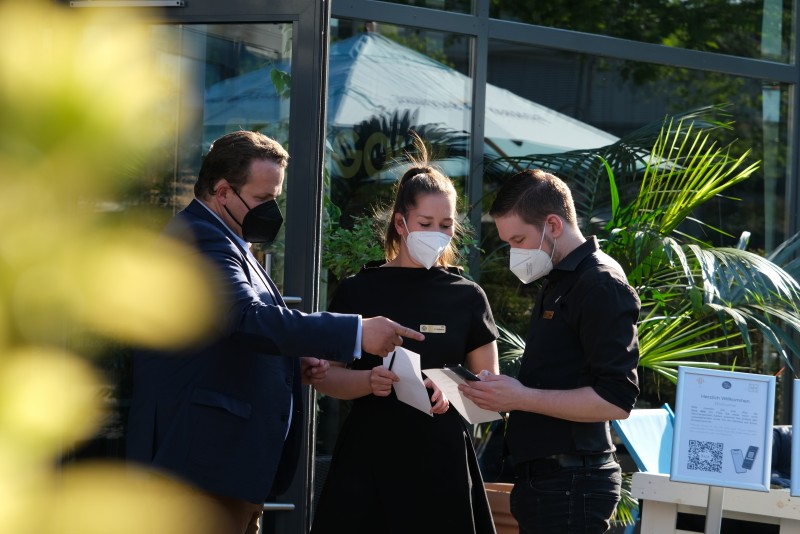 Your culinary experience at the Hotel Palace Berlin
We have taken every precaution to offer you a perfect culinary experience in a safe environment, be it at a conference, in our restaurants or in the House of Gin.
Payment will be completely contactless.
Disinfectant dispensers, plexiglass and defined walking routes are partially set up.
Safe moments of wellbeing in the Palace Spa & Fitness Berlin
The Palace Spa & Fitness Berlin » is open to guests.
Our massage team looks forward to welcome you. More information and booking via 030 2502 1070 or at the reception.
Those with symptoms of illness are not allowed to enter the spa area. Wearing a mask is strongly desired. Please disinfect your hands when entering.
Please wear bathing shoes in the spa and sturdy shoes in the fitness area.
The highest hygiene standards are maintained in the pool. The services are offered within the framework of the safety precautions taken in advance or through the use of single-use materials.
All deck chairs and utensils are disinfected and cleaned daily. The distance between the sun loungers at the indoor pool will be adjusted according to the safety distance regulation.
All personnel in charge of these services must follow the guidelines for disinfection before and after treatment and work with masks.
All sports equipment, machines and equipment in our fitness room have been refurbished at certain intervals and are disinfected immediately after each use.
In the fitness area, intensive endurance training must be avoided. Body contact and assistance are to be avoided. Towel compulsory! Only train with your own towel (no towel rental). Small appliances and mats are not available; you may bring your own for personal use. Exercise equipment must be disinfected before and immediately after use. Please pay attention to sturdy shoes.
General areas such as changing rooms, showers, toilets, wardrobes and keys and all materials such as used towels, bathrobes, etc. are thoroughly cleaned and disinfected.
Adherence to the sneeze label (cough or sneeze in the crook of your arm or in a handkerchief, not in your hand).
Please pay attention to the instructions of the staff.
Please shower before swimming and wash thoroughly with soap.
Further changes can be made at any time.
Dishes are available daily as of 12 pm, have a look at the menu ».